Hybrid work has changed how companies operate – for good
As COVID caused doors to close, companies began to wonder if adapting a home-work model would really work and help them stay productive.
However, for the companies that could, 100% remote work arrangements started in 2020 and have continued into 2021. While there is still uncertainty with different COVID variants like the recent Delta variant emerging and being highly contagious, vaccines have been rolling out and showing promise. Now companies are looking forward to having a returning workforce in offices, and curious as to whether remote teams and remote schedules should continue.
In 2020, surprising to organizations, not only was remote work doable, but its success has caused remote work to become second nature, redefining leadership and workstyles. With employees and employers agreeing that this remote work style can work, many do not want to return to the office full time, leaving with many companies to settle an in between. While the idea of "hybrid work"—splitting time between home and office—seems to be tempting, the type of industry, organization and teams will dictate whether having hybrid work can be achievable and a realistic work style.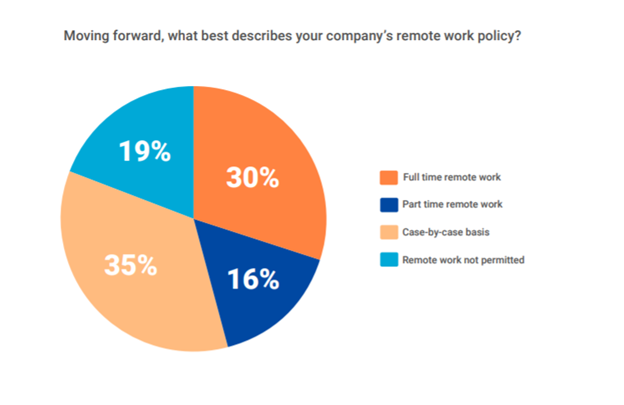 Companies introduce Hybrid Work with Caution
Although hybrid work has brought some excitement, it doesn't mean that organizations are looking to embrace this new normal permanently. In a recent report produced by The Predictive Index, respondents were asked to describe their company's hybrid work policy. Under half of employees answered that they would be working remotely, either fully or part time. Fixed office hours and schedules are a thing of the past.
It's important to understand not only how companies feel, but how employees feel about remote work. Employees have admitted that how they work and how they want to work are not aligned. PI's 2021 People Management Report found that "though 60% of respondents work almost entirely on-site or in an office, only 49% actually want to. By contrast, only 16% currently split time between the office and remote work (i.e., hybrid), compared to 26% who prefer this scenario."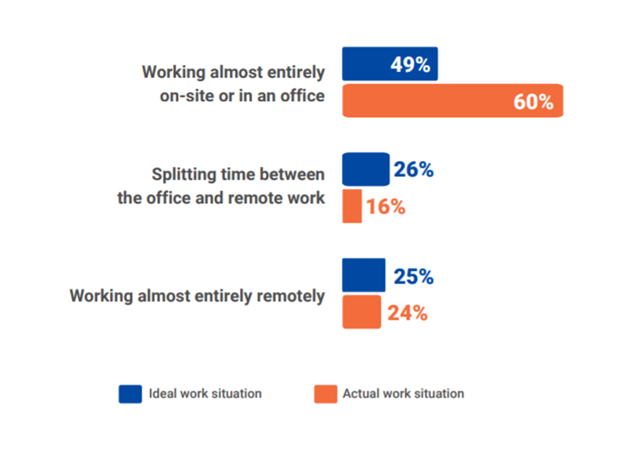 Employees enjoy having the flexibility to work from home and going into the office when they feel it is necessary, and it has been shown that teams are more productive when they have the option to work remotely. There are many other benefits to having remote work as an option not only to employees but to organizations as well. Some of the benefits to remote work include:
By companies have remote work as an option, they can find qualified employees from all over the country, an option not normally available if the organization requires travelling to an office.
Employees with families have more flexibility
Employees can work around their responsibilities, being less stressed, and improving productivity.
Organizations save money in office space
Less office space means less money spent on real estate and office supplies.
Having a diverse workforce
This includes people with physical or mental health disabilities or people facing economic housing limitations. Groups like these have challenges with travelling or travel longer than normal because they cannot afford to live near their office.
It is important to note that remote work does not mean employees will never see their offices or coworkers. It just means, that in person meetings will be more meaningful and are important when creating hybrid work cultures.
It is crucial that employees are being assessed on performance, contribution, and progress, not how much face time they can offer in the office. Hybrid or full-time remote work can improve overall employee experience, increase diversity, improve candidate pools, improve productivity, increase retention, save organizations money on real estate and much more.
While it should be noted that industries that require or heavily depend on physical contact will be least likely to adopt remote work like Education and Health, other industries, like Technology, Real Estate and Media will most likely adopt remote work for the future given the nature of their industry. What is promising is that more than half of companies plan on having hybrid teams in the future, the ability to work remotely will heavily depend on the industry, and how readily they are in adopting this new normal, but it looks as though remote work is here to stay.
Sources:
2021 People Management Report
Flex Jobs 2018 Annual Survey: Workers Believe a Flexible or Remote Job Can help Save Money, Reduce Stress, and More – Flexjobs.com
How Hybrid Remote Work Improves Diversity & Inclusion – Forbes.com