Reengaging employees when implementing a return to office work can be a challenge. While we are heading back into the office, after months of lockdown, you might assume that employees are keen on returning. The truth is, unfortunately, that may not be the case. 
Employee engagement is key to rebuilding a business – they are loyal, committed, more productive, and easier to retain which is why they are vital to business regrowth.
Just over half of your team are likely not engaged, meaning that they can be productive but they are not psychologically connected to your company. These are the employees that you need to work with. These individuals are physically present but are unhappy and psychologically absent. Furthermore, these employees share their unhappiness with other employees.
As a business owner, employee engagement might not be at the forefront. With businesses starting back up, reductions, and an eagerness to scale, you are probably more concerned with returning to the office and closing sales, deals, anything that brings potential revenue. However, a disengaged workforce may hinder growth.
After months in quarantine, employees have realized benefits such as saving time and money by not commuting. Knowing that a lot of the work can be done from home with flexible scheduling, employees are now asking for continued flexible working patterns, the ability to work remotely, and an openness to new working styles.
This shift in attitudes has already caused a wave in how people want to work, a major player in "The Great Resignation."  Although individuals have missed the social aspect of the office, they have made it clear that they want a change. While businesses may want to go back to the status quo of work, employers are going to have to do something to keep their staff engaged.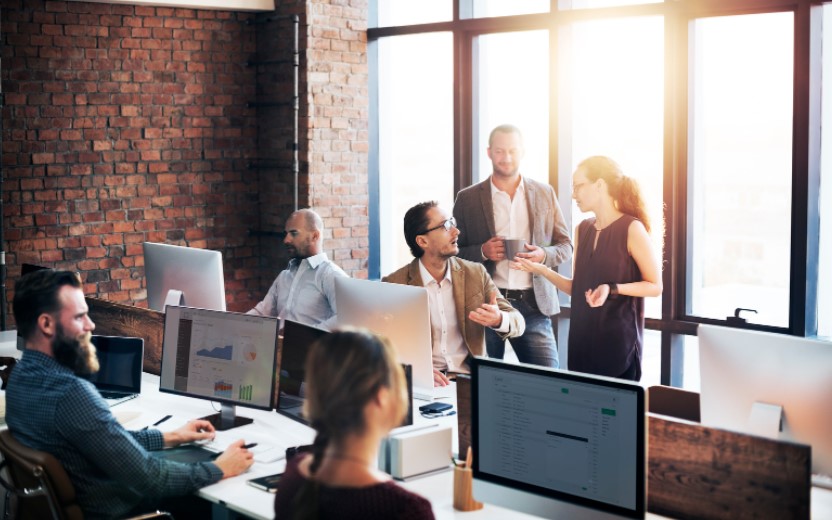 3 Pillars to Reengaging Teams
Engaging employees and keeping them engaged was a challenge pre-pandemic. It is now undoubtedly a challenge with employees having a long list of job opportunities available that are offering better pay, and flexible schedules.
Traditional methods to engage teams are still effective and shouldn't be ignored. Using the basic pillars of engagement will be a good starting point in bringing employees back. 
Culture of Communication
Creating a space that fosters open, two-way communication between employees and leaders help employees feel valued and that their contribution is meaningful. While creating a culture of open communication can be a challenge, it can be worth it, knowing that engaged employees are more productive, insightful and invested – willing to work longer hours and putting more discretionary effort. Communication includes strategies to increase productivity, conflict resolution, and DEI conversations.
Where possible, you need to make every member of staff feel like their job is safe. Offering praise and recognition where appropriate for their work so that they feel confident within their role at your company.
Make your employees feel comfortable coming to you to discuss ideas like flexible working. In building relationships with immediate supervisors and colleagues, your employees will be happier, more motivated and you will notice increased employee engagement. 
Development
Employees are more engaged if they feel like there is the potential to grow and develop their careers within your organization. In fact, the majority of people listed opportunities for growth as a more motivating reason to stay at a company than receiving a pay rise.
This is why employee engagement tends to be better in a growing company, as staff members understand the correlation between business growth and new job opportunities. 
Create an Atmosphere of Inclusion
Without a doubt, the easiest and most effective way to keep your team motivated and engaged is to provide a fun working environment. As many as nine out of 10 employees list fun working environments to be very motivating.
This doesn't mean that you need to turn your office into a trendy agency or Google HQ overnight. Simply building strong relationships and encouraging their out-of-work hobbies can go a long way. Most people are just looking for a healthy work environment.
This pillar goes hand in hand with communication – creating a space where people can discuss topics and issues openly can make for a fun atmosphere. 
Working from home has allowed people to connect to their families, start new hobbies and reignite old interests – they will want to be part of a company that welcomes and encourages work/home life balance. 
Creating a strategy that provides a space where employees can communicate, develop, enjoy themselves and where they feel of value, will motivate, engage and maintain engagement from your teams.